WITH GREENSHIELD 
LESS IS MORE
GreenShield is a patented all-in-one multifunctional nano-particle based technology that reduces the impact upon the environment and human health from stain resistant finishes by dramatically lowering the amount of fluorochemicals used in our green fabric finish. Learn about our technology.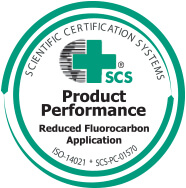 The GreenShield Company is committed to reducing the use of chemicals required for product performance with factual and transparent information that is third party certified.
The particle based technology of GreenShield is an innovation that is changing how products are protected in a growing number of industries: commercial & residential interiors, automotive & mass transportation interiors, apparel outerwear & outdoor products and applications in the marine industry.